Royal Sovereign RBC-2100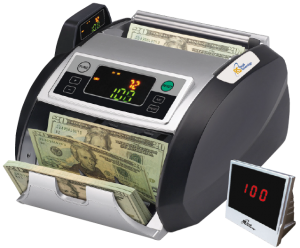 The Royal Sovereign RBC-2100 offers a sleek, back-loading design with reliable bill counting, counterfeit detection, and external display system. Counts bills at 1000 bills per minute with the added protection of Ultraviolet (UV), Magnetic (MG), and Infrared (IR) counterfeit detection. The RBC-2100 also comes with batch and add mode, making it easier to band, transport, organize, and store your cash.
Fast and Convenient Operation
Counts at a fast 1000 bills per minute, saving you time and effort.
Back loading hopper easily holds up to 200 bills at a time.
Automatically starts counting when bills are placed in the hopper, and automatically stops counting when bills run out.
The machine will run an automatic self test every time it is turned on to ensure accurate bill counting.
Integrated Counterfeit Detection
Ultraviolet (UV) Counterfeit Detection
Magnetic Counterfeit Detection
Infrared Counterfeit Detection via Dimension Detection
Batching and Adding Mode
Batch mode allows you to "batch" or preset a specific number of bills that the machine will count up to, then stop, and wait for the counted bills to be removed. Once the counted batched stack is removed, the bill counter will continue counting the remaining bills in the hopper. Simply set the batch number and let the machine count up to the preset batch number. A perfect feature for bill banding, transportation, and storage.
Add mode allows cumulative counting of all bills, up to a maximum of 999 bills.
Reliable

The RBC-2100 can count up to 50,000 bills per hour or 400,000 bills per day.


Request a Quoteor GIVE US CALL  1-876-754-8219 / 1-876-906-3230