AccuBANKER Infrared Bill and ID Screen D200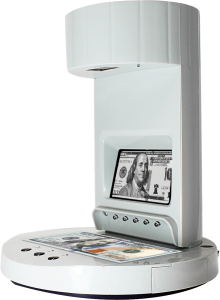 The D200 tower is the industry's most comprehensive counterfeit detection system. Its revolutionary infrared detection system takes a live "etalon" image of the bill and projects it on its screen, revealing secret security marks that can only be printed by government mints. This counterfeit detector also incorporates traditional ultraviolet, magnetic ink, watermark, micro printing, and chemical pen detection systems. Additionally this counterfeit detector is equipped with an auto-on/off sensor saving you time, money, and energy.
Great for banks, bars, nightclubs, restaurants, movie theaters and anywhere where cash transactions take place.
Multi-currency counterfeit detection
Reduces counterfeit losses
Infrared camera with 4" black and white monitor
Micro-printing optical magnifier
Chemical pen
Watermark verification
Magnetic detection
Ultraviolet detection sensor
Request a Quoteor GIVE US CALL  1-876-754-8219 / 1-876-906-3230