Royal Sovereign RBC 5000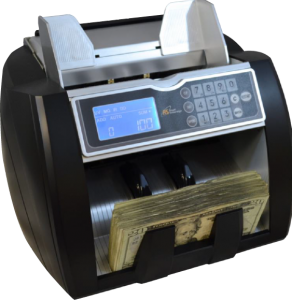 Royal Sovereign's RBC-5000 commercial quality electric bill counter features fast counting speeds great for small, medium, and large businesses! High speed counting makes bill counting more efficient while cutting down on accounting errors. It can also be adjusted to counts bills at four different speeds 800, 1,200, 1,600 and 1,900 bills per minute to accommodate differing bill quality and conditions saving you time and effort. The Ultraviolet (UV), Infrared (IR) and Magnetic (MG) counterfeit detection systems will help catch any counterfeit bills. Its front-load hopper can hold up to a hefty 300 bills. This model also comes with batch and add mode.
Fast and Convenient Operation
Counts at a fast 1,900 bills per minute, saving you time and effort
Convenient front loading hopper easily holds 300 bills at a time
Automatically starts counting when bills are placed in the hopper, and automatically stops counting when bills run out.
The machine will run an automatic self-test every time it is turned on to ensure accurate bill counting.
Integrated Counterfeit Detection
Ultraviolet (UV) counterfeit detection
Infrared (IR) counterfeit detection
Magnetic (MG) counterfeit detection
Easy Bill Batching and Adding
Batch mode allows you to "batch" or preset a specific number of bills that the machine will count up to, then stop, and wait for the counted bills to be removed. Once the counted batched stack is removed, the bill counter will continue counting the remaining bills in the hopper. Simply set the batch number and let the machine count up to the preset batch number. A perfect feature for bill banding, transportation, and storage.
Add mode allows cumulative counting of all bills, up to a maximum of 999 bills
Reliable
The RBC-5000 can count up to 114,000 bills per hour
Request a Quoteor GIVE US CALL  1-876-754-8219 / 1-876-906-3230